最新公告
2019/03/26
AI in Healthcare Mission Meeting with British scholar in College of Public Health
On March 6th, AI in health mission meeting was co-organized by institute of Epidemiology and Preventive Medicine and British Office Taipei. Dr. Peter Edwards, Professor of Computing Science and Head of the School of Natural & Computing Sciences at the University of Aberdeen, Dr. Eiman Kanjo, Associate Professor in Mobile Sensing and Pervasive Computing at Nottingham Trent University, and Dr. Mufti Mahmud, Senior Lecturer of Computing and Technology at Nottingham Trent University were invited for AI in health mission meeting.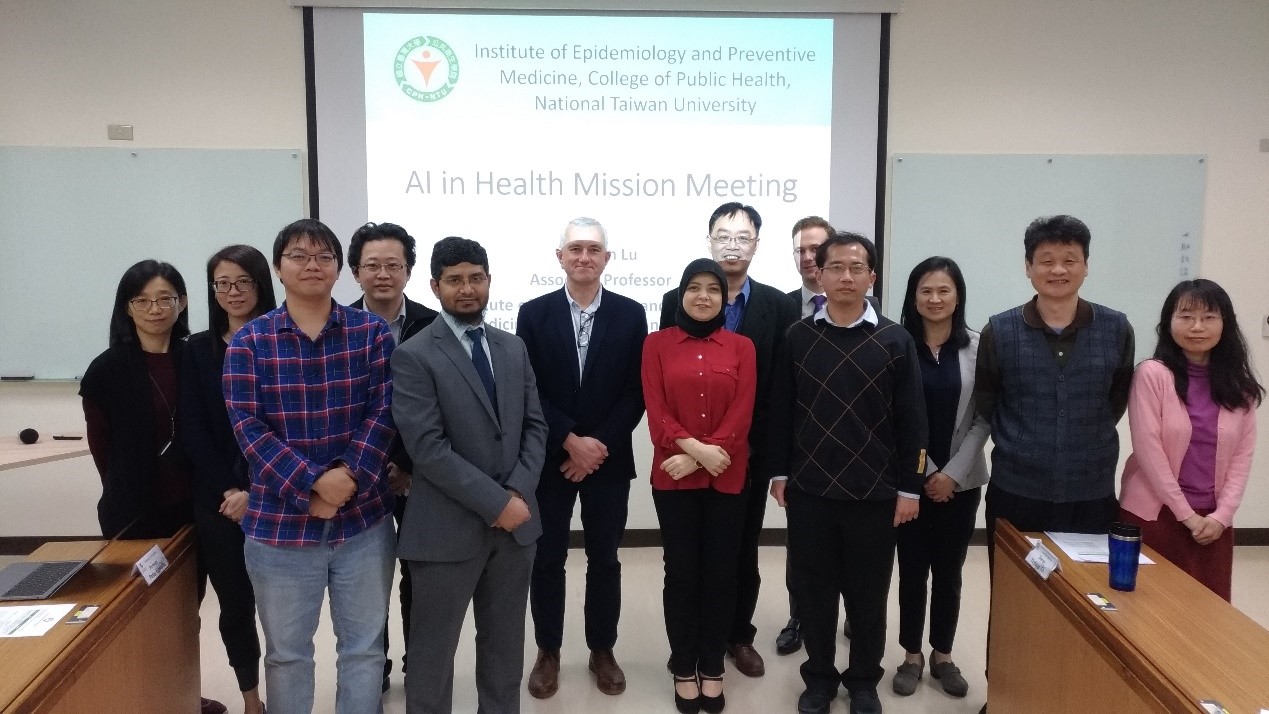 Group photo of attendees.
The meeting started with self-introduction by attendees and followed by the brief presentation of current research interest by the invited scholars and three scholars of National Taiwan University. Professor Peter Edwards introduced the project of realizing accountable intelligent systems, which are comprised of one or more AI technologies embedded within a larger systems architecture. The project aims to make the processes of decision making in the intelligent systems with accountability, transparency, and responsibility.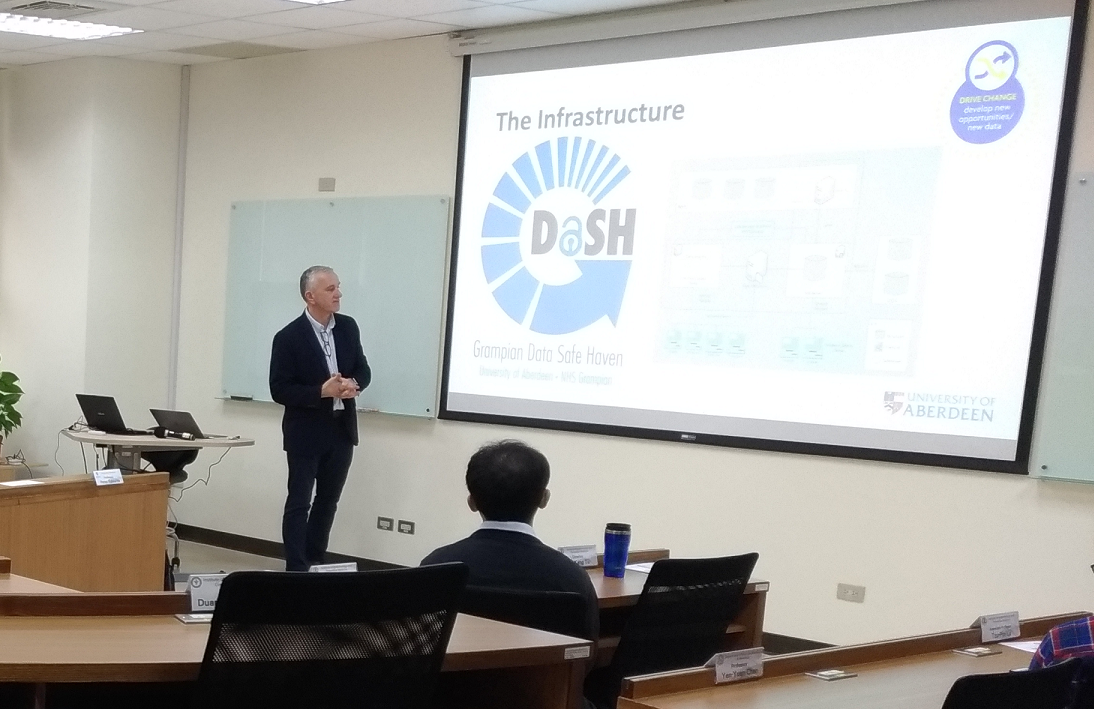 Professor Peter Edwards introduced his research.
Associate Professor Eiman Kanjo was first to coin the phrase 'Mobile Sensing'. She introduced her current research on studying and quantifying the impact of environment on wellbeing using Mobile Sensing and applications to detecting the contact of infectious diseases.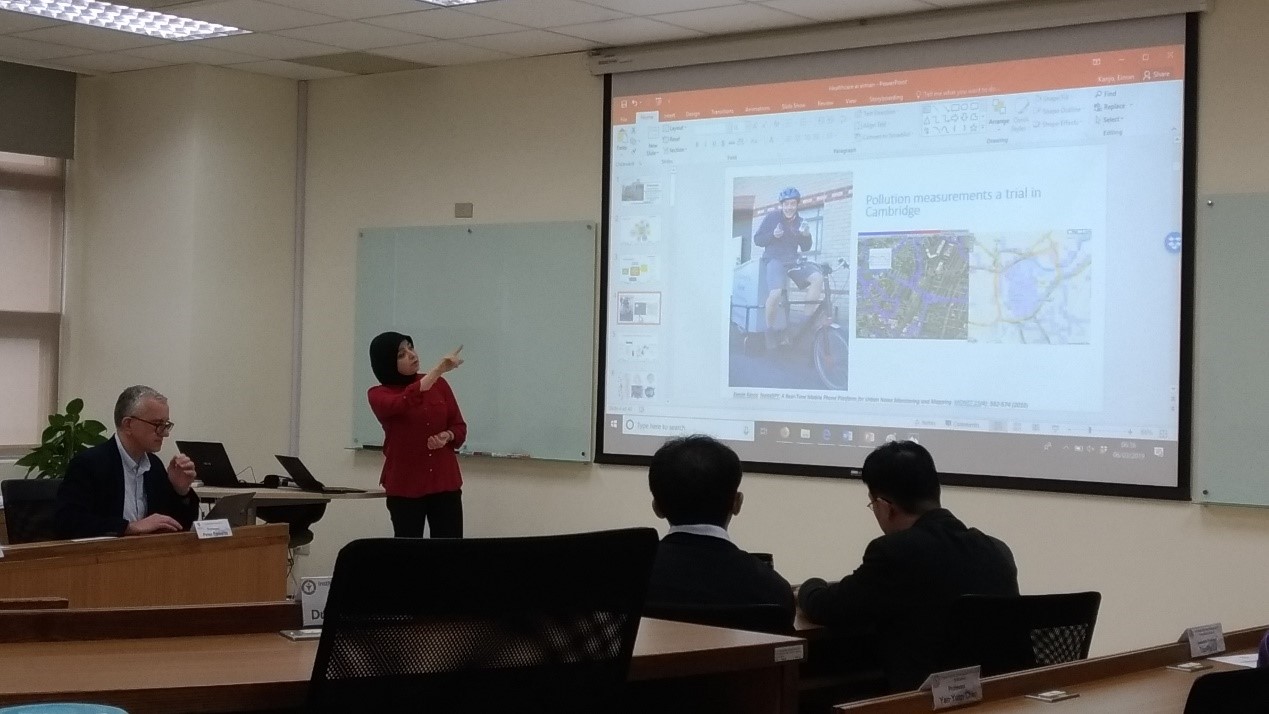 Associate Professor Eiman Kanjo introduced her research.
Dr. Mufti Mahmud introduced how brain works by analyzing neuronal big data with core computational skills and applications to analyze biomedical images like electrocardiogram. Associate Professor Tzu-Pin Lu introduced bioinformatics in genomics and biobank in Taiwan. Dr. Jui-Hsiang Lin introduced health database in College of Public Health and precision public health with artificial intelligence. Professor Yen-Yuan Chen, Professor of Medical Education and Bioethics, introduced AI center in National Taiwan University and College of Medicine.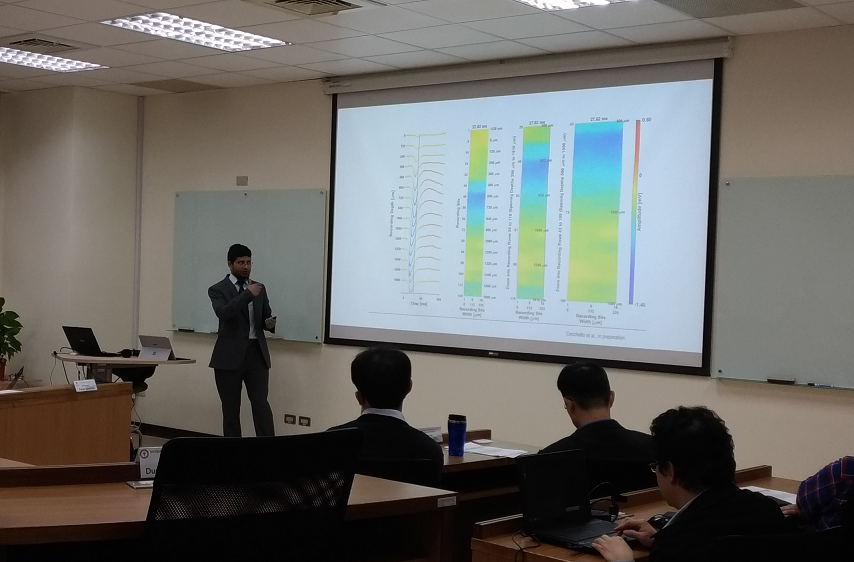 Dr. Mufti Mahmud introduced his research.
In the following session, we had our discussion informally. Every attendee was free to discuss with others. Everyone talked about his/her own research and possible cooperation. Also, Dr. Eiman Kanjo demonstrated how mobile app sensed the nearest people. British Office would like to welcome more cooperation between British and Taiwan.